Nalgene Outdoor Fully Converts Manufacturing of Lifestyle Bottles to 50% Certified Recycled Material
For 2023 alone, the company will repurpose more than 1.5 million pounds of recycled material, equivalent to 69 million single-use bottles
ROCHESTER, NY (April 18, 2023)— Nalgene Outdoor today announces that as of January 2023 it has completed the full conversion of its lifestyle bottle manufacturing to 50% certified recycled material.*  The company was first to market with this initiative in 2020 when it introduced a reusable water bottle made with repurposed material. This impressive feat of a full conversion of the lifestyle bottles significantly increases Nalgene Outdoor's more than 70-year promise to consumers to reduce the use and impact of single-use plastics on the planet.
Marked with Nalgene Outdoor's Sustain™ seal, Nalgene's next generation reusable bottles will continue to effectively reduce single-use plastics. With every new lifestyle bottle now created from 50% certified recycled material, Nalgene bottles will not only reduce the use of single-use plastics, but repurpose waste otherwise destined for landfills, exponentially increasing the benefits of reusing a Nalgene bottle.
Measuring the Environmental Impact
Nalgene Outdoor has repurposed more than 2.35 million pounds of plastic waste since 2020 when it started the manufacturing conversion.  Now that the entire line of Nalgene lifestyle bottles is converted, it is projected that in just 2023 – one year – Nalgene Outdoor will use 1.5 million pounds of recycled material or the equivalent of rescuing nearly 69 million single-use bottles from landfills!  That's enough single use plastic bottles every year to:**
Line the Pacific Crest Trail up, down, back again and more than ¾ of the way back up! (3.68 times). That's 9,752 miles! 

 

Line the Appalachian Trail from Maine to Georgia 4.45 times or an incredible 9,746 miles! Pretty crazy considering most hikers use one trusty Nalgene bottle for the entire six months it takes to cover the trail!

Stack one on top of the other to ascend the highest mountain peak in North America, Mt. Denali, 2,949 times! That's 59.9 million feet total! 

Reach the height of the Empire State building 35,385 times when stacked upon each other!  Iconic really when you remember Nalgene bottles are proudly made in the Empire State (Rochester, NY). 
Made in the USA: An Even More Sustainable Choice
Made with material derived from 50% certified recycled content is now an inherent advantage of Nalgene bottles; but not to be overlooked is Nalgene Outdoor's 70-year commitment to sourcing and making its bottles in the United States. 
Choosing a Nalgene bottle made from material derived from certified recycled content, uniquely made in the USA, significantly multiplies the reduction of one's carbon footprint by further offsetting the consumption of single-use plastics, fossil fuels, and greenhouse gas emissions.
Incredibly, in just five years  – 2028 – Nalgene Outdoor's conversion to using 50% certified recycled material is projected to divert the equivalent of 482,554,816 million single-use plastic bottles from landfills. That's repurposing nearly 11 million pounds of plastic waste!  
All Nalgene bottles are BPA- and BPS-free and made for life: dishwasher safe, durable and leakproof. To purchase a bottle and learn more about Nalgene Outdoor's overall commitment to sustainability visit here.
Latest Collection: Monochrome
Nalgene Outdoor recently launched its Monochrome Collection, all of which are made with 50% certified recycled material. While any Nalgene bottle is a great accessory to everyday life, these new bottles are particularly stylish!
Monochrome Collection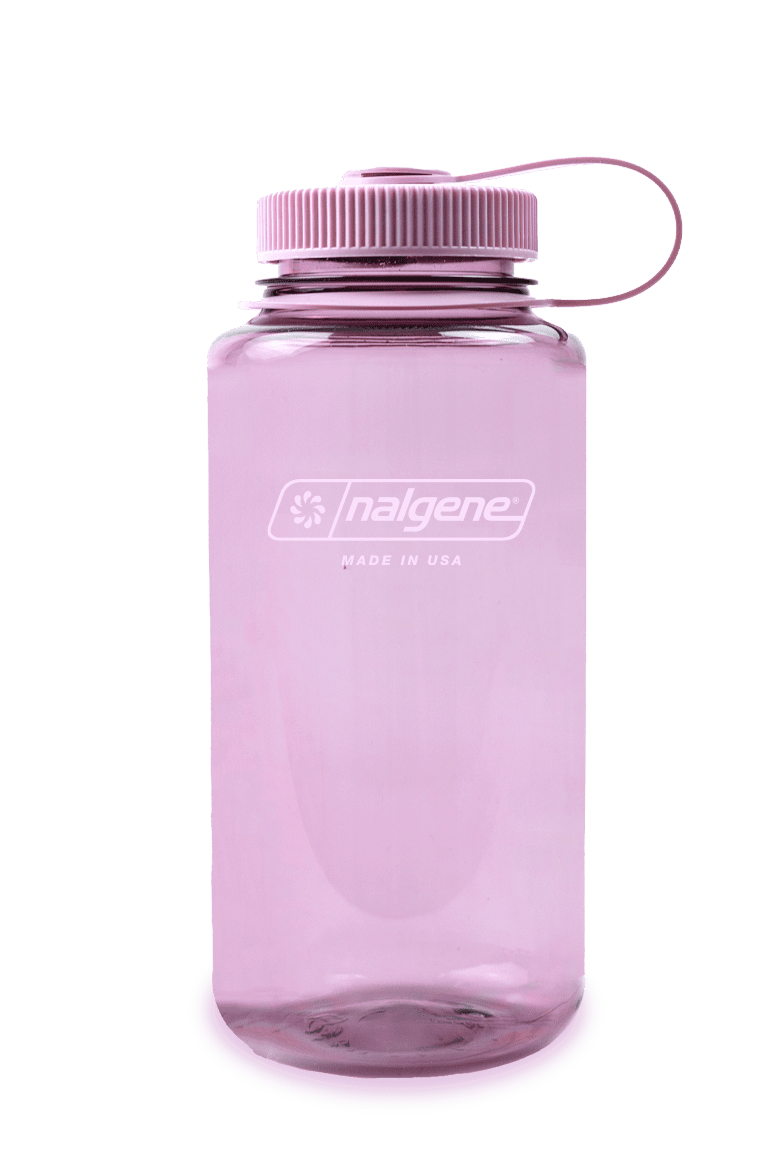 *Nalgene Outdoor bottles are made with Tritan Renew with 50% ISCC-certified recycled content that is certified through a third-party mass balance allocation process.
** Calculations from Eastman makers of Tritan Renew™ resin.  Assumes an average 16.9 fl-oz single use bottle weighs 0.36 oz.  Assumes the equivalent of 8 single-use bottles were recycled for each 32-oz. Nalgene bottle.