How to Clean Your Nalgene
"How do I clean my Nalgene?" It is one of the most popular and easiest answered questions the brand gets from the public (except for maybe "How do you make such an AWESOME bottle?"). 
It's Not Rocket Science. It's Dishwasher Safe!
Truth is cleaning a Nalgene is as about as easy as it gets and it's one of the reasons that Nalgene continues to be a favorite among those with busy active lifestyles. Cleaning a Nalgene is effortless. No small parts and no hand-washing required!
Just screw off the cap, empty the bottle's contents, and place your Nalgene bottle and cap on the top shelf of your dishwasher (away from the heating element).  Press the start button, then kick back and relax!
Too tall for the top rack? Our Silo bottles are 48 ounces tall admittedly making for tricky placement. The simple two-part engineering of a Nalgene allows the cap to go on top where it is safe from the heating elements. The bottle can handle the bottom rack and a high temperature sanitizing cycle, no problem!
At the end of the cycle, your Nalgene is once again ready for any adventure. Even if you're a "drop the gym bag and forget it" kind of person cleaning a Nalgene is within reach!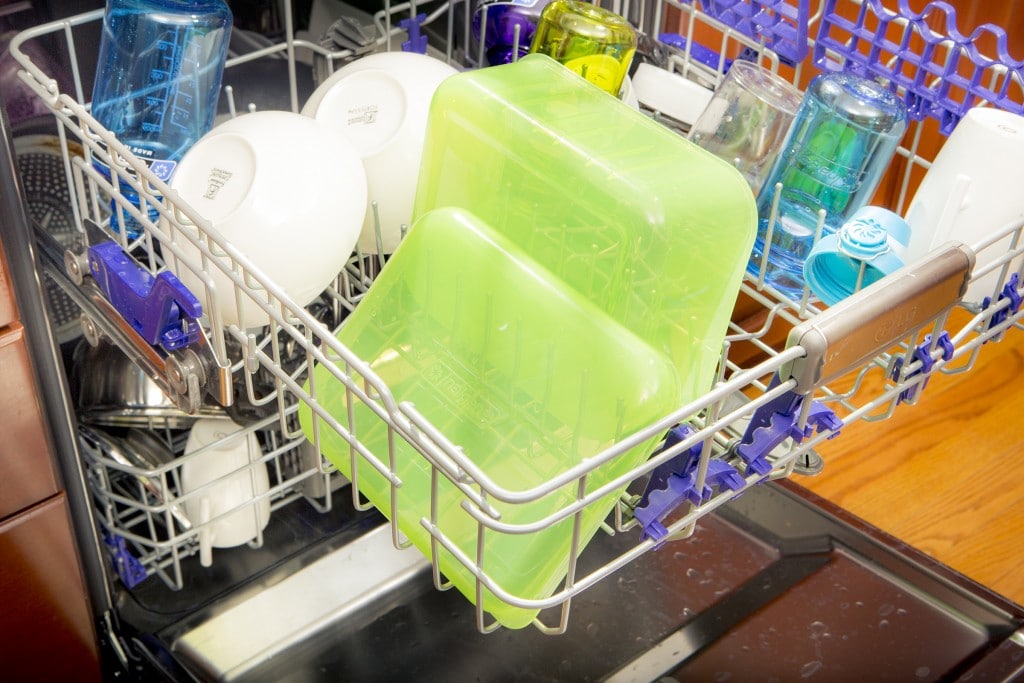 Some Adventures Require an Extra Clean.
Maybe you're that family who drives around with ten Nalgene bottles rolling around the backseat or you forgot about the Nalgene you used to make pancakes on last week's epic camping trip? It's true at times food or liquid remnants left to fester in bottles can take on a nasty smell.    
Here's an insider Nalgene hack to achieve a deep clean. 
Fill your bottle about 2/3 full of very warm water and a few drops of bleach.

 

Put the cap on, shake well, then let it sit for an hour.

 

You can use a bottle scrubber to scrub out the cap and bottle.

 

Rinse well and vóila! Your Nalgene is just like new.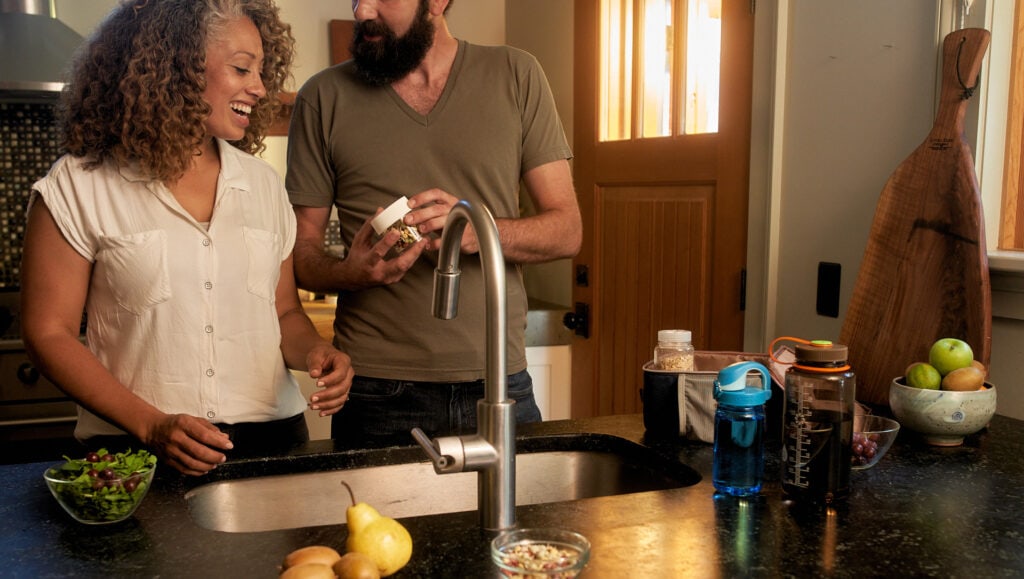 Even Kids' Bottles Clean Up Quickly
As part of its leak-proof design, but also easy for little mouths to hydrate, the On-the-Fly and Grip-N-Gulp kids bottles do have a removable valve in the cap that pops in and out for easy cleaning. These parts do not need to be removed for every cleaning, but when they need an extra scrub, you can toss into the silverware basket or wash by hand. 
Nalgene makes it easy to clean your water bottle and save time for what matters most in life. Which bottle will you choose for your next adventure? 
Interested in more frequently asked questions? Visit our FAQ page.
Cleanup from your next adventure is even easier with the OTF Lock-Top bottle.
A slim shape and fortified cap make On-The-Fly ideal for care-free storage in work bags, gym bags, backpacks and cup holders. Opens easily for convenient one-hand refreshment on the fly. Locks to prevent spills.
Buy Now!