If you're anything like us, you like to live life a little bit on the wild side.
Whether it's a walk in the park near your house, or a multi-day trek into the vast wilderness, nature is always calling us to some spectacular destinations. And in even the most remote and rugged places, your Nalgene bottle is built to last, no matter what it goes through.
And as most outdoor enthusiasts know, just about anything can happen once you're in the great outdoors. From wild weather to stumbles and falls, heading out into nature means you need to be prepared for just about anything. Luckily, most Nalgene bottle owners have probably figured out by now that our bottles are designed for even the toughest natural conditions.
Our Nalgene bottles don't just survive drops, falls, and the forces of nature because of luck. It's because of what they're made of: Tritan. It's a next-level plastic, which is known for being stronger, more sustainable, and more innovative than other plastics. Tritan is what makes our bottles especially sturdy.
Climbers, hikers, and bikers, we know what it's like when your bottle slips from your grasp, and plummets to the ground. There's that heart-stopping moment when you're hoping your bottle will come out unscathed, but then, relief: your Nalgene bottle is just fine. Because that's what it's designed for.
We're so confident in our bottles, and how durable and strong they are, we think you could take your Nalgene bottles just about anywhere, and they'd be able to withstand the forces of nature. In fact, here's our list of some of our favorite wild and rugged natural wonders, where your Nalgene bottle would show its strength.
17 Wild & Rugged Places Where Your Nalgene Bottle Can Withstand The Forces of Nature
Acadia National Park
On the east coast, up along the craggy coastline of the Atlantic, lies Acadia National Park. This 47,000 acre park is marked by rocky beaches, dense forests, and snow-capped mountain peaks. Its beauty is no secret: Acadia is one of the top 10 most-visited national parks in the United States.
Explore Acadia
Arches National Park
Utah is home to some pretty breathtaking natural wonders, and Arches National Park is definitely one of them. This park looks like it belongs on Mars more than it does on Earth, and it's notable for its more than 2,000 natural stone arches. There are also balancing rocks that seem to defy the laws of gravity, and plenty of red rocks for as far as the eye can see.
Visit Arches
Crater Lake National Park
7,700 years ago Mount Mazama in Oregon violently erupted, collapsing in on itself. It ultimately formed Crater Lake, which is an ice-blue lake that is just as cold. You can drive around the rim of the crater today on a road called the Rim Drive. If you plan to get into Crater Lake itself, you'll have to walk down one path to designated swimming areas. And beware: the waters of Crater Lake may be beautiful, but they're notoriously cold.
Denali National Park
Denali National Park and Preserve holds millions of acres of wilderness in Alaska. It's also home to Denali, which is North America's highest peak. It's home to some pretty epic wildlife, such as bears and wolverines. It's pretty remote, so consider bringing our 48oz Wide Mouth Water Bottle with you, so you have plenty of H20.
Grand Canyon
This valley in Arizona includes hundreds of miles of the Colorado River. The canyon itself is one mile deep, and the rock is not only colorful, but reveals "millions of years of geologic history." There are plenty of places to visit in the Grand Canyon, including viewpoints and scenic drives. You can also go on river trips in the canyon.
Great Sand Dunes
Prepare to feel like you're in the middle of the Saraha. This dunefield in Colorado is other-worldly, and you can climb up the massive dunes, and even sand-sled down them. These are actually the biggest sand dunes in North America.
Monument Rocks
You might not think that Kansas is home to much big nature, but these chalk formations stand up to 70 feet tall, and contain prehistoric fossils. The rocky outcrop is visible from pretty far away, and they were formed when the sea bed eroded.
Mount St. Helens
This is no ordinary mountain. When you look at Mount St. Helen's in Washington state, you notice it's flat on top. That's because this peak is an active stratovolcano, which famously erupted in 1980. The area around it is a beautiful forest, and you can even attempt to summit to the top of the volcano.
Visit Mount St. Helens
Smith Rock State Park
Climbing enthusiasts probably know Smith Rock quite well. This Oregon state park has sheer rock faces that are a hiker's dream, along with stunning views of deep river canyons. If you're not a climber, never fear: there are incredible hiking trails and places to camp in this park as well. One of the notable hiking routes is called "Misery Ridge." If you plan to hit the trail, be sure to bring your favorite Nalgene Bottle, like our 24oz On-The-Fly Lock-Top bottle, because it definitely can get hot and sunny.
Explore Smith Rock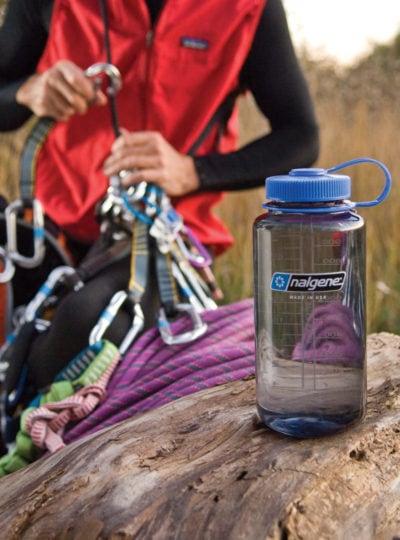 Waimea Canyon
Hawaii is known for its natural beauty, and this colorful canyon gives you stunning views of lush green hills and epic waterfalls. This canyon is often called the "Grand Canyon of Hawaii," and the reddish earth along with lush green foliage creates many breathtaking views. It's located on the island of Kaua'i.
White Sands National Park
These glistening white sands are unlike anything else. Located in New Mexico, White Sands National Park is the largest gypsum dunefield in the world. Gypsum is known for its bright white color. 12,000 years ago, the area where the park is was filled with lakes and streams, but warming and drying caused these bodies of water to eventually run dry, leaving behind gypsum that was carried in from mountains.
Yosemite Valley
One of the greatest wilderness areas in the United States, Yosemite Valley in California is home to plenty of beautiful places to explore. It's actually a glacial valley and is known for its epic waterfalls, along with deep valleys. You can also find some pretty famous climbing spots inside, such as El Capitan, Half Dome, and Sentinel.